Active vs. Passive Candidates:
What's the Big Deal?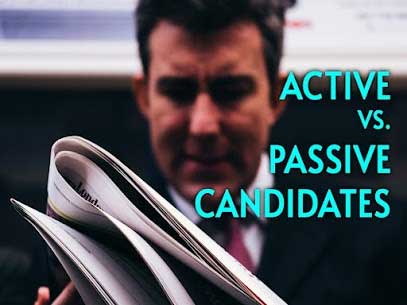 Active. Passive. Two qualifiers that mean a lot in the headhunting industry…
Active Candidates: As the name suggests, these are candidates actively looking for a job. These are the resumes an employer receives from posting an ad. They may or may not be currently employed. The number varies based on economic shifts but typically represents about 20% of the workforce.
Passive Candidates: These are candidates currently in a job and not actively looking. Therefore they would not see a posted ad. However, if approached by a recruiter or a hiring manager, they might be open to listening.
Of the remaining 80% of the workforce, 10% will never listen to a new opportunity. Passive candidates make up the remaining 70%.
What's the big deal?
The latter are the candidates a diligent recruiter focuses on, and an employer expects to see from an executive search firm like ours. We developed a full process to ferret out great passive candidates, and bring them offers they can hardly refuse. 
Contact us to discuss how we can help on your next executive search mission.