Confidential Executive Search:
Key Departures Aren't Good PR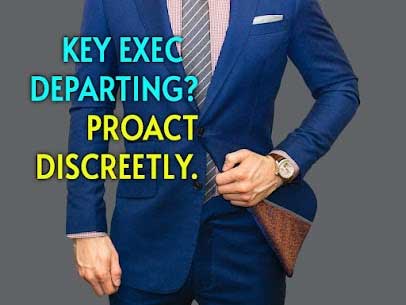 A confidential search is an executive-level search done without your staff, the general public, or even your competitors knowing about it.
Key personnel departures are rarely a great PR event for a business. Let's say your Chief Revenue Officer just resigned, not because she was doing poorly, but for a better career opportunity.
Her upcoming departure will impact your business negatively for some time. You need to hire a new sales executive, and even if you hire internally, there is a period of vulnerability for your top line until the person fully assumes her new role.
The last thing you want is to make it a public event. Your competitors don't need to know about it until the dust settles down and you have time to do some PR control.
This is the time when the speed with which Dynamic Search Consulting can present you suitable candidates becomes a crucial advantage.
Our executive search process does not rely on just a bunch of resumes or classified ads to get resumes. Our approach is much more proactive than reactive. It enables us to present you with top talent in a much shorter time than usual in the industry.
If you are in a situation when a key exec is about to leave, or you believe there is a risk this departure may happen soon, call us to discuss how we could help you respond to this event.