Executive Search Firms vs. Staffing Firms
vs. Temp Agencies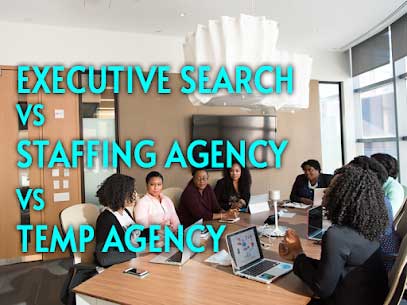 There are various areas of focus in the world of recruiting. And over the years we noticed some businesses do not differentiate correctly between the types of mission they need to farm out. They call the wrong operator for the wrong type of job. 
Best case scenario, the operator explains that they don't work on this specific type of mission. No harm, no foul. Worst case scenario: an unqualified operator takes up the mission and flubs it, wasting everybody's time and money.
There is a need for clarification and this is the raison d'être of this post.
The first type of recruitment mission is called Direct Hire or Permanent Placement. Both mean the same thing, i.e. a recruitment firm serves employers looking to hire a full-time employee.
This industry is further broken into 2 categories: "executive search firms" — they focus on hiring Director, VP and C-level executives — and "staffing firms" — they focus on hiring mid-management and entry-level employees.
Next, there are "temp-to-hire" or "contract recruiting agencies". They are called temp, hiring agencies, or temp agencies. These firms serve employers looking to hire a candidate on a temporary contract basis, typically for assistance with a project lasting 3-12 months.
The candidate is an employee of the temp agency: the agency pays the candidate's salary and benefits, and then bills at a premium hourly rate the company whose project it is.
There also is a service for "interim executive hires", where a company wants a CEO, CFO or other high-level role filled for 3-6 months or more while taking their time to look for the right full-time hire.
In many cases this candidate performs well and is offered to stay on permanently. Executive search firms tend to offer this "interim" service since they are already in communication with executive-level talent.
This clarification being offered, you now have a precise idea of who you need to talk too for your next hire. Each type of operator in the recruitment industry specializes in a given area: no one can do well in all areas. It took years for an executive search firm like Dynamic Search Consulting to build the C-Level network, the process, and the other resources we tap into to find out suitable executive candidates for our clients. You can't expect a temp agency to come up with these resources and get you the caliber of executive your business probably needs. 
If you are looking to replace a high-level executive or beef up your C-level team, call us for a first complimentary evaluation session.