How Did 'MLK DAY' Become
A National Holiday?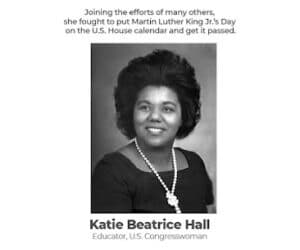 As every 3rd Monday of the month of January, our nation celebrates today the life and legacy of Dr. Martin Luther King Jr.
•MLK Day• didn't just "happen" without any battle, however.
The idea of a national holiday was proposed immediately after the assassination (4/4/68) by U.S. Representative John Conyers. His call was however largely ignored by Congress.
Over the next few years, his campaign gained the support of labor unions, the Congressional Black Caucus, the Southern Christian Leadership Conference, artists like Stevie Wonder, and 3 million petitioners.
A bi-partisan bill was finally introduced to the floor in 1979 by congressmen Conyers (D) and Brooke (R), but was fought against on ideological grounds, and fell short 5 votes to be passed.
Supporters of the cause continued to rally around it all throughout the early 80s, and in 1983 a new petition had gathered 6 million signatures.
U.S. Representative Katie Beatrice Hall then picked up the banner of the cause, and charged up the Hill, introducing H.R. 3706 to the floor.
The bill passed the House with a 338-90 vote, then, after much resistance, the Senate with a 78-22 vote.
Pres. Ronald Reagan signed it into law on November 2, 1983, almost 15 years after Dr. King's assassination.
Dr. Martin Luther King Jr. was born on Jan 15, 1929. He was assassinated at the age of 39, on April 4, 1968.