How to Decide Which Candidate to
Hire-on Paper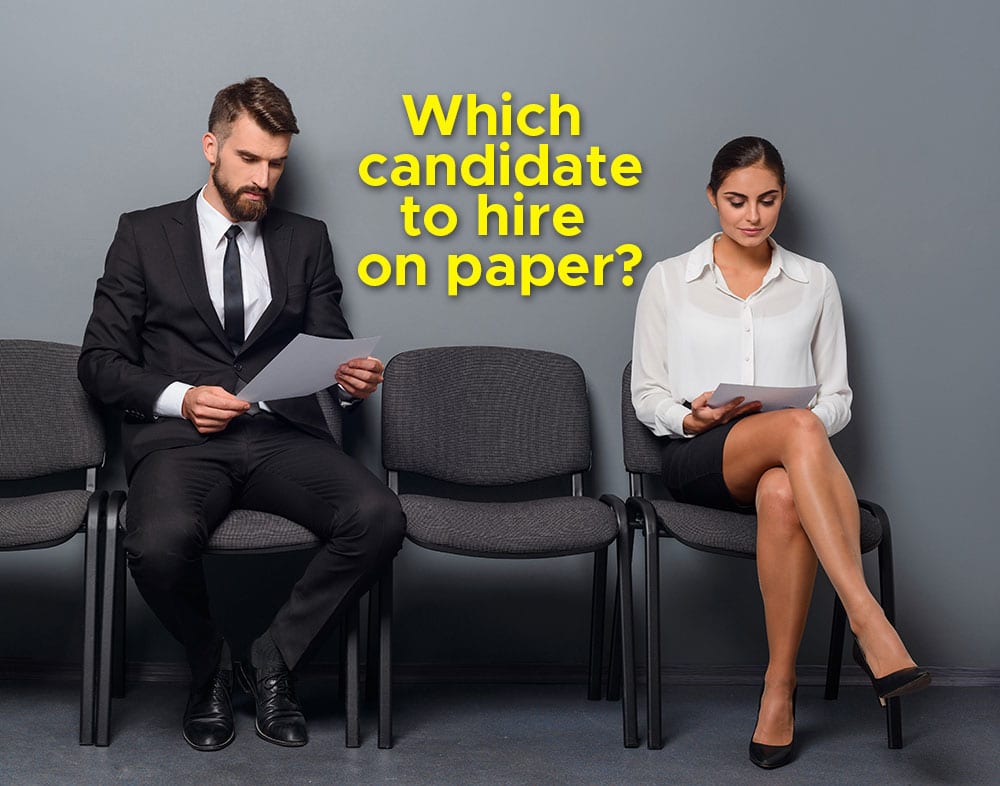 This series is meant to help hiring managers make the critical decision of who to hire when a hiring campaign is down to the top 2 finalist candidates and you don't have a clear winner standing out.
I will break this topic into 2 videos, one covering on-paper qualifications, the other on "soft skills", overall personality, and cultural fit.
Let's talk about on-paper differentiation of qualifications.
When comparing 2 resumes, consider these 3 key points:
1. Proven Track Record of Success in a Similar Role
When hiring a new employee, there are no guarantees – only probabilities – of their being successful at your company. In this regards, the best predictor of future performance is part performance.
Look to see which candidate has the most demonstrated success in roles as close as possible to the one you are filling.
For instance, if you are the hiring manager of a food manufacturer looking for a VP of Operations to manage 3 plants, the candidate who spent the last 10 years managing 4 chocolate plants would be more qualified than another candidate who spent the last 8 years managing 2 automotive plants. Obvious enough.
2. Not a job hopper
One of your parameters is to hire someone that will stay at least 3-5 years in the company, hopefully longer.
A candidate who changes jobs every couple of years shows 2 things: (1) They haven't been anywhere long enough to accumulate a proven track record. They never stayed long enough to get established. (B) They are not loyal, and will jump ship for a slight pay increase anytime.
Obviously, there are exceptions and candidates may have had good reasons on a couple of jobs to quit early. But 3 times or more? In my book, that candidate is branded a "job hopper".
3. Specific Numbers
It is very easy – especially for sales people – to embellish, exaggerate, or otherwise be vague in describing one's role and accomplishments.
Go with the candidate who paints the clearest picture of how many reports they managed, what size P&L budget they oversaw, how much revenue they impacted, what cost savings did they accomplish.
It is too easy to put down one was a Vice-President, when in fact they were just a glorified Manager.
There are other factors but these 3 are the top key ones to consider when reviewing resumes.
In our next post (and video), we will discuss soft skills, personality, and culture fit as differentiation factors in the selection process.