Inflation, Layoffs, Tight Job Market:
What Does This Mean for Hiring?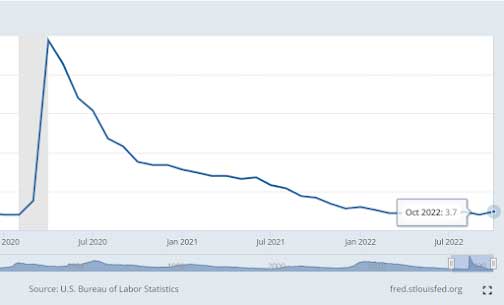 After a wild run, inflation slowed down (temporarily?) last month but the impact on purchasing power led retail big names to curtail their projections for Q4, lay off staff, and freeze their hiring plans.
The parallel rise in interest rates has hit both debt-heavy and mortgage rate-exposed businesses.
The need to trim their P&L is forcing tech start-ups to lay off workers in significant numbers. The rise in the PPI also takes a toll on manufacturer's margins.
Yet the BLS just reported 260K+ employment gains in October, and the unemployment rate remains at its pre-pandemic historically low levels at 3.7%. According to the BLS, there were 10.7 million job openings in late September. Some analysts attribute the tight labor market situation to the resilience of consumer demand.
There seems to be a degree of contradiction between the economic indicators, the current sentiment, and revenue projections for Q4 and further ahead. These uncertainties make it difficult to read into the tea leaves.
For our part, we grant more credit to the tightness of the job market, than to projections of a recession. The job situation still favors workers. Employers have to contend with both job seekers' demand for pay to match inflation, and the tightness of the pool of available labor.
Employers, keep on your A Game: seek the best, pay for quality.
Dynamic Search Consulting can support your executive hiring needs.