Is The Job Market Still Hot?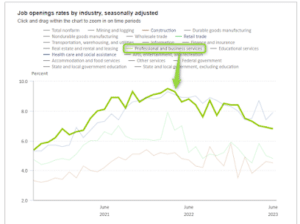 Although the answer varies from industry to industry, the general indicators show resilience. In June, the JOLTS report showed the job market remains tight, with 161 job openings for every unemployed person.
Inside this figure, several noteworthy trends: hiring dropped 326,000, layoffs decreased 19,000, job openings fell 34,000. So a slight cool off, but nothing alarming.
Interestingly, the "quits rate" dropped 295,000: workers are not as confident as before that they can find a better compensation package elsewhere.
If these figures point to less mobility in the job market, they don't point to a crash.
What about the trends in the IT industry? (See JOLTS graph)
What we observe from our vantage point as Executive Recruiters for the IT industry corroborates the opinion of other experts such as Richard Wahlquist, CEO of the American Staffing Association.
In an interview with CNBC, Wahlquist stated that "tech jobs remain among the most in-demand jobs in the market". And just as we wrote last week, he pointed out tech workers should direct their efforts towards small and medium-sized enterprises.
He is not alone: Julia Pollack, chief economist at ZipRecruiter, also stated on CNBC that tech workers laid off earlier this year have already found a job. Exactly our point.
Demand in the industry has shifted but hasn't waned. If you are a Chief Revenue Officer, VP of Sales or top-producing Sales Executive, you remain in demand.