Range of Salaries Paid to
Top Executives Across Industries
The BLS (Bureau of Labor Statistics) publishes a Occupational Outlook Handbook, a chapter of which is dedicated to executive salaries across the economy.
The latest version of this report was modified on April 18, 2022.
Remarkably enough, the BLS report clearly identifies 3 tiers of median salaries pegged within a range of a few thousand dollars.
The occupations paying the highest salaries to top execs are IT and Engineering. The median salary for this group varies between $152K and $159K. These executives are information system managers, and architectural and engineering managers.
The second tier of salaries hovers within a range of $126K to $133K. The executive jobs earning that level of salaries include advertising & marketing managers, financial managers, sales managers and HR managers.
Lastly, the bottom tier of management salaries range between $98K and $103K. Among the occupations paying this type of salaries: industrial production, medical & health services, administrative services & facility management, and construction.
It is striking that these range limits do not exceed $10K. These numbers are remarkably consistent. (Cf. Graph infra).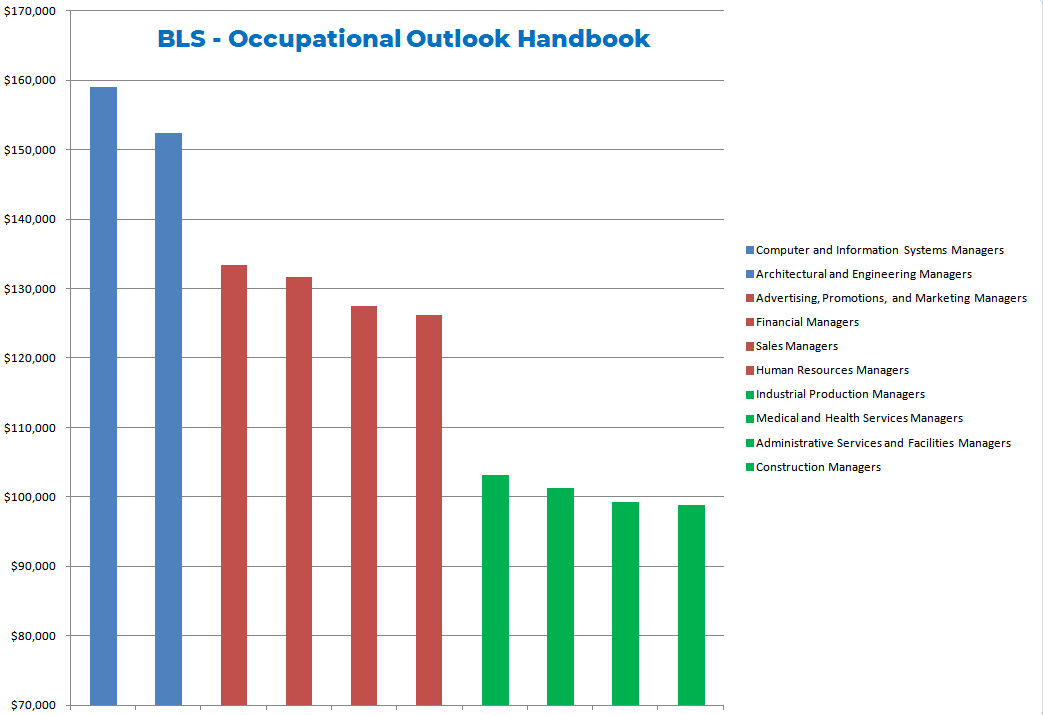 Dynamic Search Consulting is a boutique executive headhunting agency. We operate across the U.S., from our offices in the Silicon Valley, in San Jose, CA.