The Rush For Talent Is On… And It Is Massive!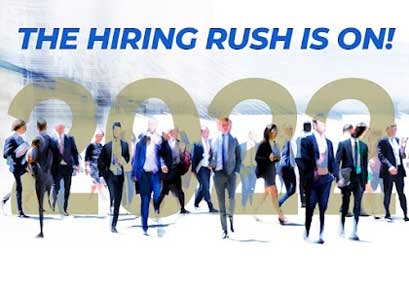 The holiday season has come and gone, January is here. Most companies have finalized their annual budget; they are ready for another year of expansion.
This includes hiring talent… Traditionally, January sees a massive rush for talent, and this year is absolutely no exception!
How will you stand out in the hiring frenzy?
Be different!
Most HR managers and recruiters check their network, post ads, search job boards, send InMails via LinkedIn, and do 1-2 email blasts.
They don't pick up the phone however, nor stay persistent enough… only reaching out to the top candidates a maximum of 2-3 times.
They just don't have enough time. A corporate recruiter can have anywhere from 20 to 100+ positions to fill at once.
Moreover, it can be awkward and difficult calling a prospective candidate still employed at a competitor…
Does this sound like what's going on in your firm?
Consider outsourcing your most urgent positions to an executive search partner such as Dynamic Search Consulting. Or trust us with the "thorns-in-your-side" positions you haven't had any luck filling so far.
Dynamic Search Consulting operates in the Silicon Valley, from its offices in San Jose, CA. We bring top talent to you in less time than usual.
Call us for a complimentary consultation.