2022 Back to the Office...
Or More of the Same?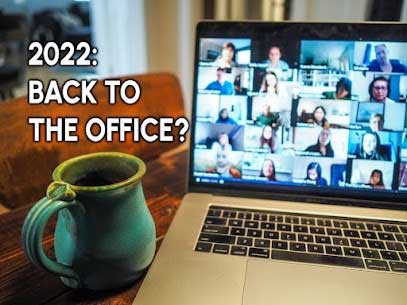 In view of the forces animating the job market since last year, the Great Resignation movement observed in 2021 and the current imbalance between supply and demand, HR and the C-level suite face a delicate exercise in equilibrium between the old office-based model and the new paradigm of remote working.
Clearly, the job market situation does not allow employers to call their workforce back to the office on pre-Covid terms. Even if the pandemic is past us, entire organizations have shifted their HR policies and organizational model to remote work; employees like the taste they have had of working from home in 2021.
Studies show it is far more upsetting to see a benefit already received to be removed from you, than never to have been given it in the first place. Most remote workers will quit their job rather than returning to the old daily grind.
HR has understood the situation, and the consensus among business leaders seems to be that hybrid models are more likely to be implemented.
Remote work is here to stay, and the actors of Corporate America will make the necessary arrangements to avoid seeing their employees flee into the arms of their competitors.
Dynamic Search Consulting is a boutique executive headhunting agency. We operate across the nation, from our office in San Jose, Silicon Valley.