Budweiser to Tighten Executive
Screening: HR Blunder Confirmed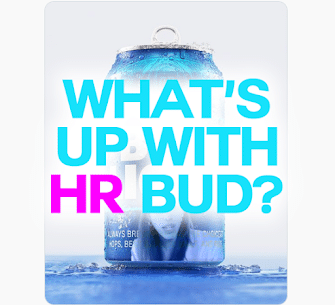 Anheuser-Busch finally acknowledged the Mulvaney fiasco in a private meeting with their largest distributors, announcing internal measures to avoid a repeat of the catastrophe:
•  Two execs placed on leave
•  Marketing campaigns to be vetted by higher-ups
•  Executives to be screened more rigorously.
I guess that was the least they could do, in the face of a $6bn market cap drop and a massive sales boycott.
Just last week-end, Beer Business Daily reported Bud Lights off-premise sales volumes were down 26.1% y-o-y for the week ending April 29.
Our contention: this marketing disaster is in reality a giant HR blunder.
Budweiser's HR team missed the glaring misalignment between Mrs. Heinerscheid's personal values and those of Bud Light's core demo.
Yet they had plenty of time to get to know Mrs. Heinerscheid, and get a whiff of her disdain for Bud Light drinkers: she already had worked 8 years at Anheuser-Busch when she got the Bud Light Blue VP Marketing position.
How could HR not see the conflict between "woke" or "DEI"… and what Bud Light stand for?
Ignore brand identity at your own perils. Whoever manages a brand must be in full alignment with the core values of that brand.
At DSC, when we search for executives, we evaluate the fit between the candidates' core values and those of our client. This extends beyond corporate culture because a brand's stakeholders are both internal and external.