Could Resilient Retail Sales Boost
Business Confidence in Early 2023?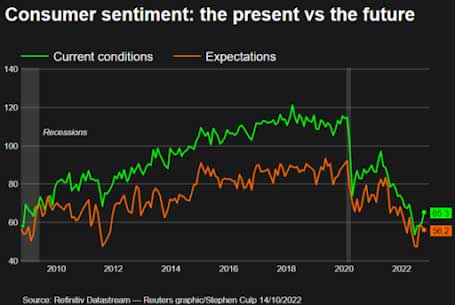 Retail sales remained unchanged in September, up 0.4% m/m, and 8.2% y-o-y.
This better-than-expected figure would find a partial explanation in:
[1] A switch in consumer spending out of certain categories (motor vehicles, furniture, sporting goods, electronics & appliances, building materials, gardening equipment) into other categories (food, health care, clothing); and
[2] Early-season sales at some retailers who had overstocked to contend with the predicted post-pandemic increase in consumer spending, and need to free up cash and warehousing space for the upcoming Christmas season.
Either way, the fact retail sales are holding up and consumer sentiment seems lately to be somewhat stabilizing since its plunge in early 2021, could be a good omen for the retail industry all the way to the end of the year.
The counterpoint is, of course, inflationary pressures directly hitting purchasing power where it hurts: utility rates, gas prices, and food.
Nonetheless, further positive reports from the retail industry could support the Business Sentiment Index in early 2023, and that wouldn't be bad news for the economy as a whole.