Headhunter Offers Unbiased
Hiring Advice to Employers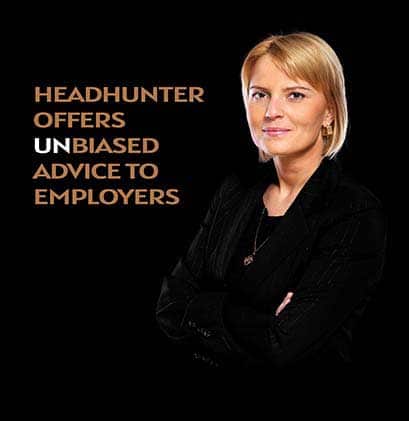 If you employ people, recruitment firms contact your organization daily, hoping to assist with filling some of your critical hiring needs.
As much as we, headhunters, would love to say outsourcing to a search firm is always the best first move in getting your position filled… allow me to offer an unbiased suggestion on the right sequence to follow.
For most positions, a Corporate Recruiter should first contact their network, and spread the word to all internal employees to check with their network on who they know that would be a good fit for the position.
Many companies have a referral incentive program set up for this. Indeed, statistical evidence shows one is much more likely to want to work for a business in which a friend or relative already works. Likewise, businesses tend to consider a candidate better vetted when coming from a reliable, familiar source. There is also a higher likelihood such candidate will accept your offer vs. others from companies in which they don't know anyone.
Next, ads. I'd recommend Indeed as it pulls jobs posted from all job boards onto theirs. LinkedIn Jobs is also a good one. This way, for free or just a few hundred dollars, you can broadcast your opportunity to the entire pool of candidates actively looking for a job.
Concurrent with posting ads, search LinkedIn for passive candidates, those in jobs and not actively looking (therefore not likely to see your ad), and InMail them.
If the above is not panning out, it's likely a couple months have gone by and getting the position filled is now more urgent. Time to outsource the position to a professional headhunter who can dedicate a team full-time to getting the job done, and adopt a different approach.
Exception: If you are hiring for a C-level executive or are confidentially replacing one currently in the role, going with an executive search firm first may very well be the right option.
Give us a call for more information and for a complimentary consultation.