How Will You Outpace Inflation in Wages Paid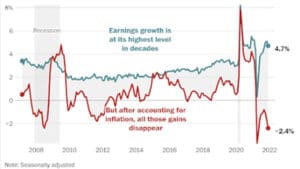 WaPo published an insightful article last January about the impact of inflation on wage growth. Relying on figures published by the BLS (see above), private wage growth has been wiped out by inflation since April 2021.
Average wages increased 4.7% in 2021, faster than in the past 13 years, as a consequence of COVID-related government stimulus checks and the "great resignation" phenomenon of 2021.
However, in inflation-adjusted terms in the same period, workers lost an average 2.4% in purchasing power. Prices of basic necessities (food, gas and rent) have shot up. According to Realtor.com, average rental prices reached their highest point in 2 years in May 2021 with a 5.5% Y-o-Y increase.
How do employers factor these trends in their 2022 budgets to avoid hemorrhaging employees?
According to an article published by SHRM in February 2022, they rely on a variety of options:
Upwards revisions in budgeted wages
Remote work options
Work-from-home stipends
Flex-time options
Health programs
Location-based pay strategies
Greater pay transparency
Greater pay equity
The last two are qualitative factors addressing negative perceptions likely to cause workers to search for other opportunities.
Considering the vagaries of our current economy, it could be fruitful to call us to analyze your pay range in the light of industry data.