Most In-demand Skills in 2023?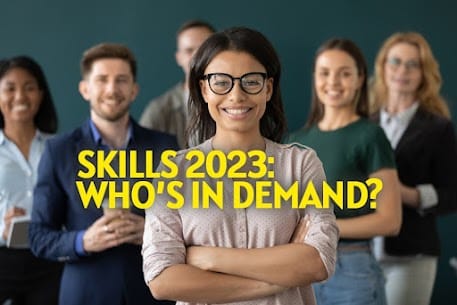 Virtually every business has an online presence of some sort today. For many, that extends to a social media presence.
The use of social media marketing increases steadily: ad budgets and the demand for digital marketing specialists have followed suit.
As a recruiter, I hear many CMOs predict this trend will continue.
How does this translate into the job market? Social media marketing and digital advertising are among the top in-demand skillsets across the board.
According to the State of Skills report published in December 2022 under the title "How Skills are Disrupting Work" by the Burning Glass Institute, the Business-Higher Education Forum, and Wiley, the most in-demand skills in 2023 are in:
• Social media
• Artificial Intelligence
• Cloud Computing, and
• Product Management
Research shows that demand for skills in AI/ML (Machine Learning) grows the fastest: +370% over the past 5 years, i.e. 2-3x faster than any other in-demand skillset.
Web development is another example of the effects on the job market of the demand shift: once one of the top sought-after skillset, demand for it is gradually receding with the rise of "no code" and the abundance of no-code platforms (incl. ChatGPT).
"How Skills Are Disrupting Work" covers a lot of ground on how new in-demand skills are crowding out others, and the resulting shifts in positions and job titles.
Hiring? DSC remains on top of trends to cover your need for top talent. Call us.