SAAS: Does Your C-level Blend
Dreamers & Doers?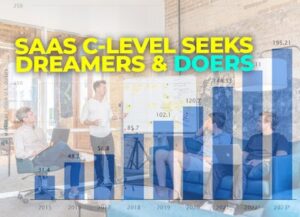 Judging by revenue growth, the SaaS industry seems to be recession-proof. According to Statista, worldwide user spending could reach $195 Bn in 2023.
According to Ernst & Young, 2022 was already the second highest investment year on record in Q3, and SaaS investment was to hit the $200 Bn mark by end-Q4.
YES BUT…
While these figures are hot, we can't ignore that Silicon Valley has offloaded 216K workers in 2022, incl. 46K just in Jan 2023.
Even the stalwarts of the industry are shedding like crazy: just this month, -10K at Microsoft, -12K at Google, and -18K at Amazon.
ANOTHER DOTCOM BUST?
Remember the DOTCOM boom-to-bust of Y2K? Overvalued PERs, red-bleeding P&Ls… The market ended getting black-pilled.
True, the movement towards the cloud-based SaaS model seems perennial. It certainly matches the "rent everything, own nothing" political mantra of our times.
But large investors are not P&L-blind forever. SaaS companies must be able to turn a profit rapidly and consistently. And that duty behooves their C-suite.
DREAMERS + DOERS
No doubt: "being disruptive" means "looking beyond reality". But if Toyota and the TPS taught us anything, obsessive implementation is key to getting results.
Your C-suite MUST blend visionaries and… pragmatic managers.
Do you have what it takes to get funded and reward your investors?
We can help you achieve this balance, with our SaaS executive search process. CALL US.