Confidential Executive Searches:
Avoid Stressing out Your Staff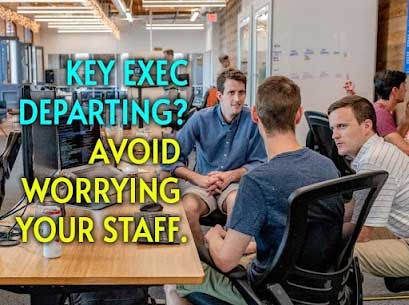 Keeping things on a need-to-know basis avoids unnecessary stress and feelings of uncertainty of what may happen when a key exec leaves.
This helps preventing unnecessary turnover.
Having asked many candidates why they are open to leaving their current role, I can share many allude to a lack of confidence in their job security due to a recent turnover in leadership.
Will they like the new executive? Will they embrace the new direction taken by the company? What does that mean for their career?
Finding out the right key executive replacement will take some time. There is no gain in involving your whole staff in this period of uncertainty.
When you plan to hire a key role, you need a strong retained search partner. At DSC, we don't post ads, or blast your opportunity for everyone to see. Rather, we take a targeted approach, identifying who in the market is most qualified to be spoken with. We get an NDA signed prior to revealing any name. This approach is most certain to result in finding top talent in the most discreet manner.
Call us for a first consultation.